Pro-grade equipment at a bargain price. That's the reputation Elgato earned as first YouTube videos and then Twitch streaming took over video games. Straddling a line between hobbyist and professional-grade—a line that's hard to walk competently, I might add—Elgato's capture cards have become a mainstay of streamers at all levels.
The Stream Deck, Elgato's latest piece of hardware, is something altogether different: A video switcher (or mixer), not a capture card. But aside from some early-days software issues, it's poised to be just as important a piece of kit for a certain tier of creatives.
Power at your fingertips
Video switchers are a fairly standard (and boring) part of multi-camera broadcasts. If you've ever watched a sporting event or another live broadcast, chances are a switcher was employed—it allows a producer to switch between multiple camera feeds on the fly, rather than sticking a camera on a tripod and calling it a day. Usually it's a big gray rectangle full of dials, levers, and color-coded buttons.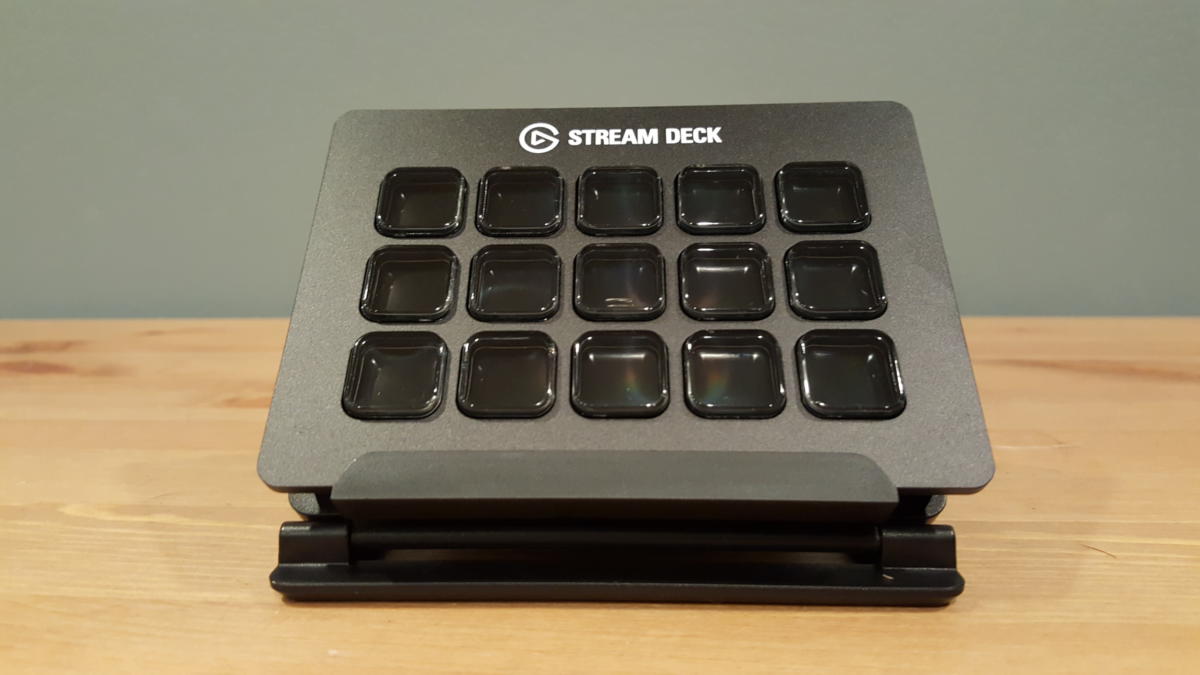 Elgato has taken that concept—the ease of hitting a button and switching camera angles or what have you—and applied it to all aspects of the streaming experience. Basically, the things any streamer does in software right now? The Stream Deck lets you do them in hardware.
Oh, and the whole unit is about the size of a pack of index cards. The Stream Deck consists of 15 buttons, arranged in 3 rows of 5. They could be boring ol' buttons like any other video switcher, but no. Instead, each is a miniature OLED display.
With software tie-ins to Open Broadcaster Software (OBS), Twitch, Twitter, and more, you can manage an entire stream without ever Alt-Tabbing or pulling focus away from a game. Want to launch OBS? Program a button to launch OBS. Want to start streaming? Hit another and send a stream direct to Twitch. Hell, have another button announce to your Twitter followers that a stream is starting. And if you need to close a game mid-stream and want to full-screen your webcam or do any other fancy scene-switching? Yeah, you can program buttons for that too.
Elgato took a shrink ray and aimed it at its Stream Deck, a button pad billed as a companion accessory for streamers, and the result is smaller, more affordable version for broadcasters and creators.
The new Stream Deck Mini offers the same functionality as its bigger sibling, it just has fewer buttons and costs a sliver under $100. Whereas the full-size Stream Deck has 15 buttons for streamers, the miniaturized version sports six. Each one is planted on an LCD screen and they are all fully customizable, allowing streamers and video producers to quickly and easily perform a wealth of functions.
"When Stream Deck launched just over a year ago, it gave content creators access to a level of tactile control that was traditionally exclusive to mainstream entertainment broadcasters," said Julian Fest, VP & General Manager of Elgato. "Stream Deck Mini is every inch a Stream Deck. It keeps all the same functionality, in a smaller form factor, and at a more attainable price."
Users can program the buttons to perform various actions, such as playing GIFS and soundbites. It also comes with a selection of default shortcuts for popular streaming apps, and integrates with OBS Studio, XSplit, Streamlabs, Twitch, YouTube, Twitter, Mixer, and more.
Setup is supposed to be simple—just drag and drop actions onto keys. You can assign ready-made icons to each LCD button, or create your own. And if you want mix things up, you can configure multiple actions to a single button.
"If you think tapping a key to execute an action is impressive, you'll love Multi Actions. That's right—assign as many actions as you want to a single key, and launch them all with a tap. One by one separated by intervals. Or together, simultaneously," Elgato explains.