Elgato Stream Deck
Pro-grade equipment at a bargain price. That's the reputation Elgato earned as first YouTube videos and then Twitch streaming took over video games. Straddling a line between hobbyist and professional-grade—a line that's hard to walk competently, I might add—Elgato's capture cards have become a mainstay of streamers at all levels.
The Stream Deck, Elgato's latest piece of hardware, is something altogether different: A video switcher (or mixer), not a capture card. But aside from some early-days software issues, it's poised to be just as important a piece of kit for a certain tier of creatives.
Power at your fingertips
Video switchers are a fairly standard (and boring) part of multi-camera broadcasts. If you've ever watched a sporting event or another live broadcast, chances are a switcher was employed—it allows a producer to switch between multiple camera feeds on the fly, rather than sticking a camera on a tripod and calling it a day. Usually it's a big gray rectangle full of dials, levers, and color-coded buttons.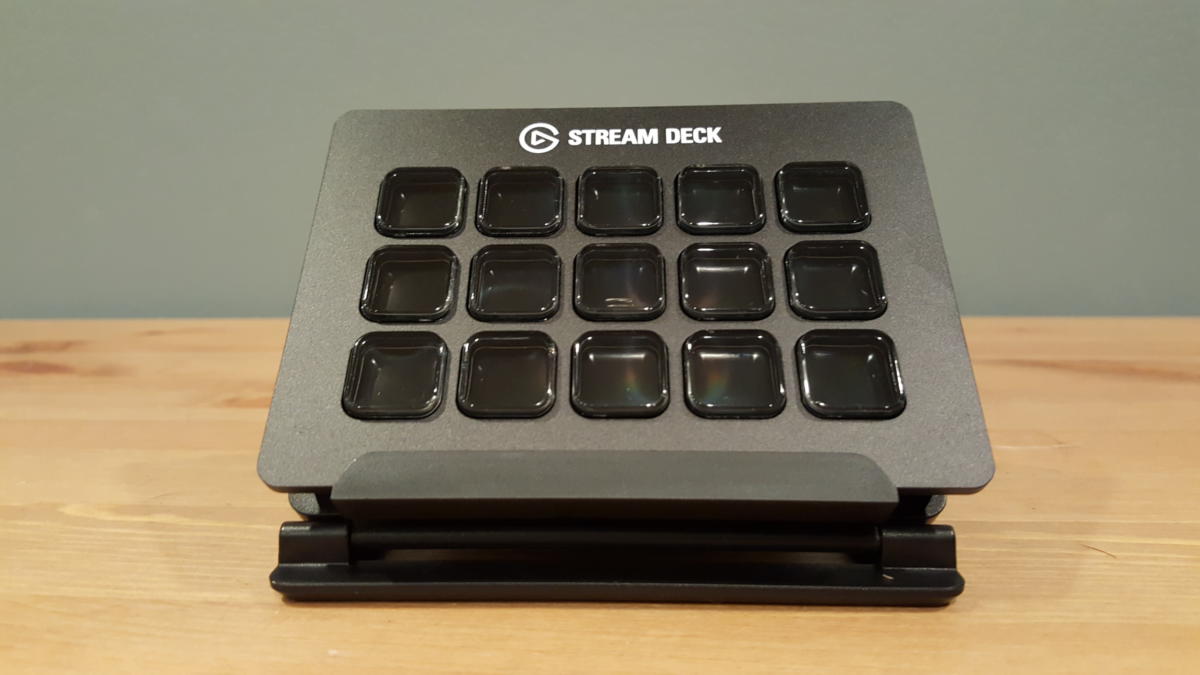 Elgato has taken that concept—the ease of hitting a button and switching camera angles or what have you—and applied it to all aspects of the streaming experience. Basically, the things any streamer does in software right now? The Stream Deck lets you do them in hardware.
Oh, and the whole unit is about the size of a pack of index cards. The Stream Deck consists of 15 buttons, arranged in 3 rows of 5. They could be boring ol' buttons like any other video switcher, but no. Instead, each is a miniature OLED display.
With software tie-ins to Open Broadcaster Software (OBS), Twitch, Twitter, and more, you can manage an entire stream without ever Alt-Tabbing or pulling focus away from a game. Want to launch OBS? Program a button to launch OBS. Want to start streaming? Hit another and send a stream direct to Twitch. Hell, have another button announce to your Twitter followers that a stream is starting. And if you need to close a game mid-stream and want to full-screen your webcam or do any other fancy scene-switching? Yeah, you can program buttons for that too.
Product Description
Break Boundaries
You're creating quality content backed by the best tech on the planet. But you want to do more. With Stream Deck, unleash your creative genius and make waves across Twitch and YouTube. All while focusing on what matters most: your audience.
ut loose, keep productive, and be ready for anything.
Take Control
15 LCD keys poised to launch unlimited actions eliminate the need to map and memorize keyboard shortcuts. One-touch, tactile operation lets you switch scenes, launch media, adjust audio and more, while visual feedback confirms your every command. Traditionally this level of control was exclusive to mainstream entertainment broadcasters. Now, it's at your fingertips.
Streamline Your Setup
Elgato Game Capture, OBS, Twitch, Twitter, TipeeeStream, XSplit, YouTube, Mixer, and more – Stream Deck integrates your tools and automatically detects your scenes, media, and audio sources, enabling you to control them with a quick tap of a key.
Be Proactive
Automated alerts make life easier. But between thanking donors and welcoming new subscribers there's ample opportunity for self-expression. Employ Stream Deck to level up your onscreen antics with GIFs, images, videos, and audio clips. While you're at it, apply lower thirds and bookend your content with signature intro and outro graphics. Your options are endless, so explore and experiment. Do what you must to sharpen your creative edge, and do it with a personal touch.
Make It Yours
Customizing Stream Deck is effortless. Simply drag and drop actions onto keys, and make them your own with custom icons. Need more actions? Turn keys into folders to amass and access as many actions as you want. Better yet, save unique key configurations as dedicated profiles for different games and apps, switch between them on the fly, and share them with fellow creators.
Easily create your own icons with Key Creator.
Bring It On
Gone are the days of navigating myriad windows to trigger an action, and relying solely on automated plugins to expand your production value. Now, you hold the power to pioneer a new era of content creation, and lead your audience to uncharted frontiers of inspiration. Now, you're in control.
Only logged in customers who have purchased this product may write a review.
System Requirements
MINIMUM:
OS: Windows 7/8.1/10 - 64-Bit
CPU: Intel Core i3-2100 @ 3.1GHz or AMD Phenom II X4 965 @ 3.4 GHz
Hard Drive Space Required: 50.0 GB
Minimum Supported Video Cards: NVIDIA GTX 460 1GB or AMD Radeon R7 260